WALK IN THE WILD COUNTRYSIDE
(Go for a walk in the wild nature)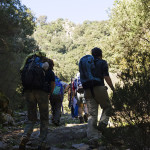 You will fall in love with the countryside, take my word for it. This land is so wide and varied that to say it is wonderful is an understatement, it offers you cultural, archaeological, sportive and natural walks in every season, magically involving you in the history of these places. Going on into the wild and fascinating interior – whether towards Barumini, Sadali, or Barbagia di Seulo – you will enjoy the nature, immersed in the timeless tranquility, in exciting excursions (on motor cycles, bikes, horses or on foot) up to the highest peaks in this part of the island and, should you wish, down to what are indisputably the most beautiful beaches of the Eastern coast. It's up to you. Following the winding roads and. Leading from them, the paths that take you into the midst of the thick vegetation, you will discover plants and animals, some very rare, then parks, waterfalls and incredible countryside.
Starting from Escolca the paths take you to the giara (high plains) of Serri or to Isili, whilst if you are fond of long walks you can reach the countryside of Nurri and Orroli. Amongst the most interesting walks there is Laconi, with its beautiful natural park and the museum of the menhir. In all four seasons the walks offer different scents and scenery: going towards the Flumendosa, for example, you can see a landscape that is still uncontaminated and enjoy the silence of an undiscovered place. On certain days you can go around the lake in boats and see a breathtaking and romantic display of nature
-› motor bike
-› bike
-› horse riding
-› trekking and hiking
-› free climb