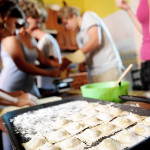 For fans of gastronomy I propose a course of typical Sardinian cooking and, on request, of other traditional cuisines. The course lasts one or two days and includes learning how to make typical sardinian dishes, amongst them ravioli with ricotta or with potatoes (culurgionis), fregola (fregua), gnocchetti (malloreddus), certain fish specialities, snails, asparagus (depending on the season) there will also be lessons for preparing the most popular desserts: pardulas (sweet pasquali with ricotta or fresh cheese) amaretti, sweets made from almonds (buconettus or also guefus) and other Sardinian specialities.
Bread baking
You can also experience the traditional baking of bread by some of the older inhabitants of the village: bread treated with natural yeast like in the old days, baked in a wood fired oven and with biological flour. For groups of at least 5 people there is the possibility of lessons in making carasau bread.
The cost will depend on the number of participants.