Rising in the west of the town of Barumini, on a dominating tor above the vast plain, its profile stands out unmistakably on the horizon The imposing archaelogical complex of Su Nuraxi of Barumini was completely uncovered between 1949 and 1956, under the direction of the archeologist Giovanni Lilliu (amongst the most well-known specialists of Sardinian history and famous member of the Academy of Lincei).
Su Nuraxi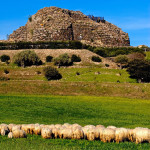 Unesco declared it to be "Common heritage of mankind", and it's the most impressive of all the Nuragic complexes now considered to be one of the symbols of Sardinia The archeological site represents the sole case of a nuragic city kept until our days. Surrounding the mighty fortified central tower there are about fifty huts in a round design which used to be the village. Probably the walls of the huts and the cone shaped roofs were made of wood, and couldn't be kept through the centuries. The only remains are the huge stone foundations whose architectural design belongs to the past millenniums.
From the hill where the complex was built, the scenery is breathtaking and one guesses that this place was chosen for the construction of the fortified village because of its strategic location.